Magician Edinburgh – Magician Glasgow – Magician Scotland
Available for Weddings, Parties and Corporate Events
Book Dave Reubens today for event entertainment!
Add extra excitement to your celebration by booking a professional party magician. Close up magic is great for entertainment and breaking the ice. This is perfect for an office Christmas party, a birthday party and other celebrations. Whether you need an Edinburgh Magicians, Glasgow Magician or one elsewhere, I can help!
Amazing magic for your wedding. Wedding magicians can help guests have a great time while providing an exciting talking point too. As one of the premiere wedding magicians in Scotland, I can astound your friends and family with my table magic on your big day.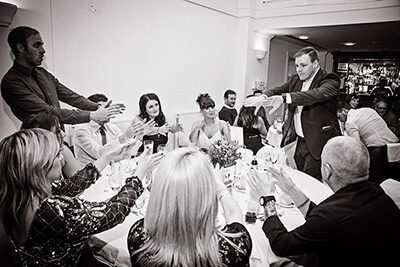 A corporate events magician you will find utterly spectacular. Dave provides top corporate entertainment. His walk around/close up magic will make sure your guests and VIPs are having a good time.
We booked Dave for our wedding and would highly recommend. Everyone loved it! He went round everyone and even managed to grab me and my husband for a trick before he left.
Made our day more magical. Thank you!
Dave Reubens is the real deal! His act was a unique experience and I think I can speak for everyone when i say he did a phenomenal job. As a magician he is both friendly, professional.
If I am ever in need of a magician he will be the first to call.
Ethan Buddie, Event Organiser
About Me
I'm a full time award winning professional magician with over 10 years experience. My speciality is providing premiere close-up magic for weddings, parties and events. As I'm based in Scotland, I'm a magician Edinburgh and a magician Glasgow get to see quite often.
I'm a proud member of the prestigious Edinburgh Magic Circle. As one of the UK's top magicians, I have toured shows too. I've done multiple runs at the Edinburgh Fringe, Adelaide Fringe and Fringe World (Perth, Australia).
I've also been featured in the media including the BBC and Channel 9 (Australia) and in various newspapers over the years.
My event magic has only ever received 5 star reviews. I pride myself on offering great customer service with excellent communication. I'll work with you to ensure you get the most from your event. I'm a member of Equity and a public liability insurance certificate can be provided.
My Magic
I am a professional close up magician, wedding magician and stage magician. I create modern jaw-dropping miracles that will wow your guests and help them have a great time. You can expect magic with cards, borrow items, coins, minds, sleight of hand and even a little fire!
My strolling magic is a perfect icebreaker that get your guests mingling and in the spirit of your event. They will witness mind-blowing magic that happens in their own hands, outrageous predictions coming true, items visibly passing through each other and much more.
To keep up to date with my magic take a look at my social media (links in footer) or read my new blog.
Event Entertainment
Seeking amazing magic for your event in Scotland or beyond? As a magician for hire, I can help!
Some common event types that I attend are:
Wedding

Corporate Event

Birthday Party

Anniversary Party

Office Christmas Party

Drinks Reception
Where I Perform
While I'm an Edinburgh magician entertainer, I perform all over Scotland. I'm a magician Glasgow and magician Edinburgh sees performing regularly too due to the sheer number of events there. I have even performed at weddings in the south of England and corporate evenings in Australia.
If you need to book a wedding magician, corporate magician or close up magician for your event, then get in touch. I have over 10 years experience of entertaining and can astound your guests on your big day.
My magic is popular with corporate events and office parties.  I often work with local businesses providing exciting party entertainment for staff and clients. I'm also a popular choice for when companies need a Christmas magician.
What type of magic do you perform?
I specialise in exciting magic for weddings, parties and events. I often perform at family celebrations, corporate events and birthday parties all over Scotland.
Guests can expect a mix of card magic, mind reading, sleight of hand and even a little fire. I've learnt these skills over many years as a professional magician for hire. I'm also a member of the Edinburgh Magic Circle and attend lectures from world famous acts. My table magic is amazing fun for events or if need a magician for birthday party entertainment.
I also occasionally entertain in front of large audiences too. I do not offer entertainment as a kids only magician, a comedian or a hypnotist.
How long have you been a magician?
I have gathered a lot of experience as a close up magician and a stage magician with over a decade performing. In that time, I have been so lucky to get to amaze audiences all over the world. You need someone that has built up experience from years of entertaining so that you get the most from when you hire a magician.
Have you performed at events similar to mine before?
I have helped a wide variety of events, including weddings, corporate events and private parties. I'm certain to have the experience needed for your special occasion. If you want to amaze your guests and need to book a magician near you, get in touch.
How many performances do you offer and how long do they last?
I usually perform non-stop for the time I'm booked. However, I can break the time up to suit the proceedings if needed. Typically, I suggest close up magic for at least 1 hour per 50 guests. Alternatively, I can perform a show for everyone when there is only a small number of guests.
Do you have any testimonials or references from previous clients?
I'm proud to have received glowing testimonials from Edinburgh, Glasgow and all over Scotland. I've only ever received 5 star reviews on Google. I pride myself on being one of the top central Scotland magicians for event magic.
I've been trusted by 100s to perform for their guests. You can read more on my Testimonials page.
What is your pricing structure and what is included in your fee?
You will receive a quote that is competitive and includes everything. I may need to add a fee for travel depending on where your event is being held. You'll receive a quote based on the location, number of guests and duration for your event. Request to Get A Quote to hear back quickly.
Do you have any specific requirements for the performance area?
I ask there is no loud music during the magic. Magic relies heavily on guests being able to hear what is happening. You wouldn't be getting the most from what I do if your guests can't hear me.
There can be other requirements when I perform a magic show to everyone at once. We can discuss any requirements before your event.
Do you offer a backup plan in case of unforeseen circumstances?
Yes. If I am unexpectedly ill or breakdown, I will try to find you an equivalent magician for your event. I have never missed an event or broken down to date.
I'm part of a network of Scottish magicians and close up magicians for hire. I can provide some of the best entertainers in Scotland. If for some reason a replacement can't be found then a full refund would be given along with a very big apology.
This has never happened despite my many years in entertainment.
Do you have insurance to cover any accidents or mishaps during the performance?
I am a member of Equity. This means I am covered by Personal Liability Insurance. I'm fully insured to cover mishaps that could occur during my magic.
Do you have a minimum or maximum number of guests for your performance?
I am comfortable performing for any number of guests but it all comes down to the events layout and setup. I'll discuss your needs with you and make sure everything goes smoothly.
How far in advance should I book your services?
I recommend booking as early to ensure that I am available. My availability depends on the time of year and day of the week. For example, I'm more likely to be booked for a Saturday night during the Christmas season than a Monday in January.
I sometimes have last minute availability so if you need to hire in a hurry, just ask.
What is your cancellation policy?
The fee will be refunded minus the deposit if you need to cancel a booking.
How do you interact with the audience?
I love interacting with my audience and making them feel part of the show. I use a lot of humour and make sure everyone feels comfortable and involved (if they want to be). I always aim to create a fun and memorable experience whether I'm performing close up magic or engaging with a crowd at a magic show.
Can you perform for both children and adults?
I have experience performing for guests of all ages. However, I don't currently offer kids only shows as that is a skill in itself. I will happily perform magic for kids at family events and I can tailor my act to suit to make sure everyone is having fun.
Do you require any specific props or equipment for your performance?
I have my own props and equipment as a close up magician. For a stage show, I may need access to a power supply or a sound system with a microphone.
Most of my clients need a magician for hire in Scotland and I'm a magician Edinburgh and Glasgow residents might have encountered often but I've performed all over the UK and beyond.
When most of my clients search for a "magician near me", they tend to be looking for a magician Edinburgh, magician Glasgow (magician East Kilbride, magician Paisley, Hamilton, Renfrewshire etc), Stirling magician, magician Perth and magician Dundee.
I often perform in the central belt in places like Dunfermline, magician Falkirk, magician Livingston, Bathgate, Hamilton, Midlothian, magician East Lothian, magician West Lothian and magician Fife.
However, I happy travel further as a magician Scottish Borders in towns like Galashiels, Hawick, Selkirk, magician Kelso, Lauder, Jedburgh, magician Peebles, and Eyemouth.
Also, places in the west coast like magician Ayrshire, magician Ayr, Largs, magician Irvine, Saltcoats, Troon, Prestwick, Greenock, Kilmarnock.
The east coast is not left out with places such as North Berwick, magician Berwick-on-Tweed, Bamburgh, Alnwick, Dunbar, magician St. Andrews, Montrose, Arbroath, Kirkcaldy.
I have attended many events down south in Lockerbie, Dumfries, Carlisle, Gretna Green and up north in Dunkeld, Pitlochry, Blair Athol, Aviemore and Inverness too.
I have amazed people all over the country and I'm a magician Scotland is no stranger to.